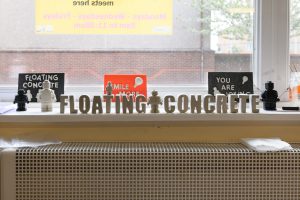 Art & Culture
You Are Joking exhibition
Floating Concrete are an artistic duo known for their miniature Lego-like figures cast from concrete. From their base in the Silver Building, they're hosting You Are Joking, an exhibition in collaboration with selected artists. The private view from 7pm on Thursday 25 July is accompanied by cocktails.
At You Are Joking, Floating Concrete will also unveil a piece they have been working on collaboratively with the Royal Docks community. In the photo below, work begins on the piece at a Big Lunch Drop In roving community meal earlier this year.
For your visit
Outdoors
Thames Barrier Park
This dramatically-landscaped park is the best place to watch the Thames Barrier in action.
Business
Tate & Lyle Sugars
This refinery on the banks of the Thames has been producing sugar by the tonne for over 140 years.
Food & Drink
Starbucks Coffee
Just outside Thames Barrier Park, the outdoor seating makes this Starbucks a favourite spot for dog walkers.