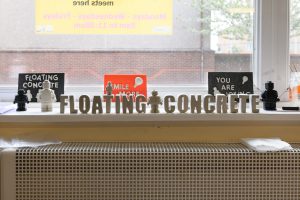 Art & Culture
You Are Joking exhibition
Floating Concrete are an artistic duo known for their miniature Lego-like figures cast from concrete. From their base in the Silver Building, they're hosting You Are Joking, an exhibition in collaboration with selected artists. The private view from 7pm on Thursday 25 July is accompanied by cocktails.
At You Are Joking, Floating Concrete will also unveil a piece they have been working on collaboratively with the Royal Docks community. In the photo below, work begins on the piece at a Big Lunch Drop In roving community meal earlier this year.
For your visit
Outdoors
Royal Wharf Gardens
In this garden in the centre of the Royal Wharf development, you'll find a memorial to the Silvertown Explosion.
New Arrival
Art & Culture
The Silver Building
Once the offices of Carlsberg-Tetley, this concrete block now offers workspaces to dozens of creative businesses. Look out for their regular events and exhibitions.
New Arrival
Food & Drink
Husk Brewing
There's a new brewer in town, right where the first IPAs were once shipped from. Watch out for live music nights in the bar.