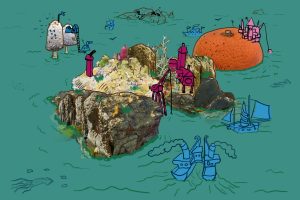 Art & Culture
Voyage to the Islands of Ifland
Join Patchlarks on three adventures in storytelling, games and drawing for children of all ages (and their adults too). All while staying right where you are!
The ships of the Royal Docks sailed all around the known world… but what about the unknown world? For that you need an Imagination Ship!
Luckily everybody has one. Climb aboard yours and sail off on a mysterious and inventive expedition through the Islands of Ifland. Which don't actually exist. So you'll just have to make them up.
Each short, pre-recorded, access anytime video is stand-alone and launches you on a voyage that goes as far as your imaginations will take you. It could fill half an hour or a whole afternoon, it's up to you. Do them in any order, or just do one. It's up to you.
Expect playful story prompts, how-to drawing guides and games to play. All you will need is paper, pencils, a few things from around the house and your curiosity turned up to eleven and a half.
All videos now available:
Episode 1 available to watch now
Episode 2 available to watch now
For your visit
Outdoors
St John's Green
Community garden with allotment and children's play area.
Food & Drink
Airline Cafe
No one complains about all-day breakfast for under a fiver. Right next to the ExCeL, this cafe-diner opens early to late.
Outdoors
Lyle Park
It's easy to miss Lyle Park's narrow entrance, but its triangle of green with a river view is worth exploring.