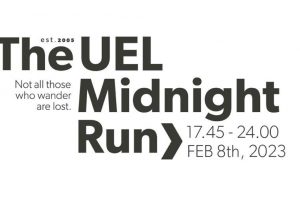 Events
University of East London & The Midnight Run
UEL:AFTER DARK
UEL For one night, UEL:AFTER DARK will light up the university's Docklands campus – engaging students across all our sites; welcoming families and local businesses; and providing opportunities for everyone to watch or participate in a range of art, light and movement-based activities. The festival is produced in partnership with UEL students, and encompasses two weeks of creative workshops ahead of the event, for joint skills development with local schools and the wider East London community.
The evening itself will feature a community Lantern parade, fiery dance and drumming performances, fun drop-in sporting activities along an illuminated waterfront, and a number of magical installations at Docklands Campus.
As part of this programme, UEL will commission 3 east London based artists as part of a Midnight Run event to deliver participatory art workshops all around the themes of light, movement or art.
The Midnight Run is being presented as part of UEL:AFTER DARK by the Midnight Run, produced by Fuel.
The Midnight Run
The Midnight Run was established by Inua Ellams in 2005 and is now one of the leading, independent participatory arts models in the UK. The Midnight Run is a walking, arts-filled, nighttime cultural journey through urban spaces. It gathers strangers and artists together to explore, play and create, whilst the city sleeps. The MNR aims to break down social barriers. It provides a platform for established and emerging creatives, bringing moments of genuine interactivity to residents, visitors and artists.
Since its conception, there have been 45 events in the UK, nationally and internationally including in London, Manchester, Paris, Berlin, Rome, Madrid, Milan, Barcelona, Perth, and Auckland.
To experience more about The Midnight Run see this video: https://vimeo.com/202822063