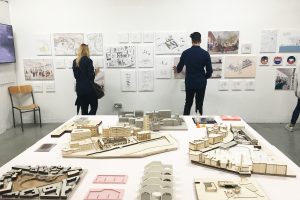 UEL Architecture and Design Showcase 2019
The Architecture and Design end of year Showcase is our annual celebration of the work produced by over 450 students here at UEL. Showcasing innovative and societally aspired work trough a large range of media, spread across our whole Architecture and Visual Arts Building. Ranging from Foundation degree to Masters' degrees. This free exhibition on our Docklands Campus covers a variety of programmes on Undergraduate and Postgraduate level such as; Architecture, Architectural Design Technology, Interior Design and Professional Landscape Architecture.
For your visit
Community
University of East London
UEL's docklands campus is known for its state-of-the-art sports facilities and formiddable reputation.
Food & Drink
Galyons Bar & Kitchen
This 19th-century dockside inn has recently been reborn as a waterside gastropub.
Art & Culture
RAW Labs
Sample an impressive range of art events and workshops, or just the great coffee, at this Bow Arts caff.