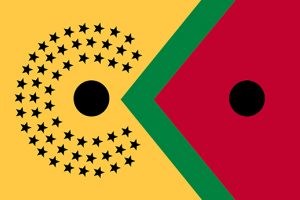 Art & Culture
The Line: Sanko-time by Larry Achiampong
Established in 2015, The Line is London's first dedicated public art walk; an outstanding, free outdoor art gallery, following the line of the Greenwich Meridian along a route which passes through three of the most diverse boroughs in the UK (Newham, Tower Hamlets and Greenwich).
To mark the 5th anniversary of the critically acclaimed art walk, The Line is delighted to announce the launch on 29 August of Sanko-time – a new, specially commissioned audio work by British Ghanaian artist, Larry Achiampong. This audio work has been developed to accompany the 20-minute round-trip on the Emirates Air Line cable car from Greenwich Peninsula to the Royal Docks and is designed to complement the views over the River Thames. It can also be experienced anywhere in the world via www.the-line.org
Sanko-time is a concept developed by the artist that relates to the Ghanaian Twi word Sankofa, which roughly translates as to go back for what has been left behind and alludes to using the past to prepare for the future. This site-specific work responds to the indelibility of the historical British Empire on the areas local to The Line. Incorporating oral histories from the Museum of London's sound archive, field recordings from London and Accra and audio recorded during workshops with primary school children from St Mary Magdalene C of E School in Greenwich. Sanko-time takes the listener through a rich soundscape connected by the Greenwich Meridian.
For your visit
Food & Drink
Airline Cafe
No one complains about all-day breakfast for under a fiver. Right next to the ExCeL, this cafe-diner opens early to late.
New Arrival
Food & Drink
Perky Blenders
Everything about Perky Blenders x Goodvibes is upbeat and friendly, from the name and the decor all the way to its coffee.
Food & Drink
Heroica Lounge
It's a bus, it's an Italian restaurant; you decide whether to order pizza or pretend to drive.