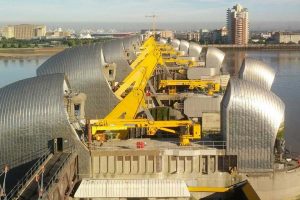 Events
Thames Barrier Annual Closure
The Thames Barrier is one of the largest movable flood barriers in the world. Once a year, we operate over a full tidal cycle, to test the Barrier under the highest pressure to ensure we're ready for winter.
Spanning 520 metres across the River Thames near Woolwich, The Thames Barrier protects 125 square kilometres of central London from flooding caused by tidal surges. It has 10 steel gates that can be raised into position across the River Thames. When raised, the main gates stand as high as a 5-storey building and as wide as the opening of Tower Bridge. Each main gate weighs 3,300 tonnes.
This event can be viewed from the foreshore, with our cafe open all day and guides running talks and providing regular commentary on what's going on. This is the best opportunity to see the Thames Barrier move into action.
For your visit
Outdoors
St John's Green
Community garden with allotment and children's play area.
Community
Royal Docks Learning & Activity Centre
RDLAC has spent 50 years serving the North Woolwich community, from after-school clubs to conservation projects.
Outdoors
Royal Victoria Gardens
These 19th-century pleasure gardens are still a delightful place to watch the river go by.