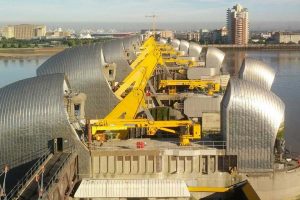 Events
Thames Barrier Closure
The Thames Barrier is one of the largest movable flood barriers in the world. Spanning 520 metres across the River Thames near Woolwich, the Thames Barrier protects 125 square kilometres of central London from flooding caused by tidal surges.
It has 10 steel gates that can be raised into position across the River Thames. When raised, the main gates stand as high as a 5-storey building and as wide as the opening of Tower Bridge. Each main gate weighs 3,300 tonnes.

In addition to an annual test closure at a high spring tide, the Environment Agency schedules a closure every month for maintenance and testing, and it's a good opportunity to see this engineering marvel in action. On the Royal Docks side of the river, Thames Barrier Park provides a perfect view as well as award-winning landscaped gardens.
For your visit
Food & Drink
The Girl of Sandwich
Primarily a takeaway, this sandwich shop is popular with locals and workers alike.
Community
North Woolwich Library
This is more than a library; here you'll find a homework club, model railway society, and more.
Business
London City Airport
The only London airport that's actually in London.