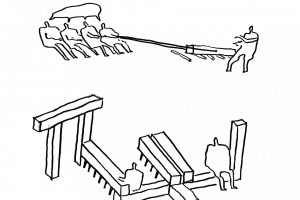 St John's Green Design Workshop
Have a go at designing seating, outdoor ovens and a green roof canopy for St John's Green, at this workshop organised by RDLAC.
A design workshop day led by Muf Architecture. This exploration at scale and at 1:1 will be used to inform a build week in July to help up-skill young people in creative furniture design and building for outdoor spaces. This will include various possibilities including seating areas, outdoor ovens and a green roof canopy. This also explores the boundaries young local people face in finding employment whilst enhancing the local Green, itself a boundary between a bustling road and residential area.
Image: Jon Shmulevitch, Muf Architecture.
For your visit
Outdoors
St John's Green
Community garden with allotment and children's play area.
Community
Asta Community Hub
Asta takes a holistic approach, supporting the North Woolwich and Silvertown community from birth to old age.
Food & Drink
Pier Masala
Cosy North Woolwich curry house serving traditional Indian dishes at reasonable prices.