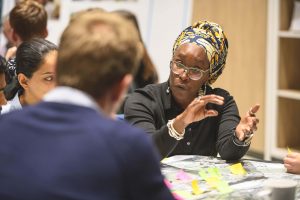 Events
Speaking Together workshop: Community Communications in the Royal Docks
The Royal Docks Team is hosting a workshop to kick-start a discussion about how to improve communications amongst all the diverse people and groups in the Royal Docks in order to maximise opportunities for local communities.
This workshop will take place at 12-2.30pm on Thursday, 25th November in-person at Britannia Village Hall. Lunch will be provided and attendees are welcome to stay and network until 3pm.
The workshop will be co-facilitated by Groundwork London and the Royal Docks Team Marketing, Communications and Engagement Team. The outcome of the discussions will help shape a series of follow-up community workshops and capacity-building sessions in 2022.
Who this workshop is for?
If you are representing a community and voluntary sector organisations or you are a formal or informal community leader in whatever capacity, we would really value your participation and hope you will benefit from this workshop series. Please share this with anybody you think might be interested including residents and young people.
Context
We are hosting this workshop in response to feedback from communities about the need for improved communications between all stakeholders. We recognise our role as the Royal Docks Team is to support a better communications environment for everyone and hope we can work together to achieve this.
Registration details
Please email Nasima.begum@london.gov.uk to register for the event. Spaces are limited.
We kindly ask that you take a Lateral Flow Test before you attend the meeting and do not attend if you test positive or experience any COVID-19 symptoms. You can order a free test via this link.
For your visit
Activities
The Quad Club & Spa
This spa, swimming pool and gym in the Crown Plaza Hotel offers calming treatments and classes.
Food & Drink
Heroica Lounge
It's a bus, it's an Italian restaurant; you decide whether to order pizza or pretend to drive.
Outdoors
St John's Green
Community garden with allotment and children's play area.