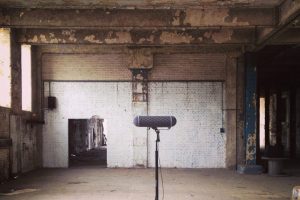 Events
Sounds of Millennium Mills
Join us at The Crystal for an evening of networking with sounds of Millennium Mills by sound artist Aino Tytti on Thursday 5 March 2020 from 6:30 pm to 8:30 pm
This proves to be a networking event with a difference, with the chance to see and soar above the Royal Docks courtesy of the 1:1000 scale model of the area positioned perfectly in our exhibition space. At the same time, you are immersed by the sounds of Sheffield-born sound artist Aino Tytti, as he takes you along his journey of discovery for the Millennium Mills which took place over four months in the early part of the last decade.
For further information, or to book now on to this first come first served exclusive event go to https://nla.london/events/sounds-of-millennium-mills
For your visit
Art & Culture
Making Space: Go the Distance
Installation artwork by Jessie Brennan, created with Peacock Gym by collecting images from the archive of this renowned community boxing hub.
Attractions
The Crystal
One of the world's most sustainable buildings is also a striking landmark.
Activities
London Royal Docks Open Water Swimming
Swim outside year round against the historic backdrop of Royal Victoria Dock. Safety tagging included.