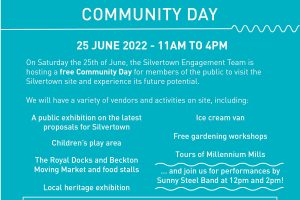 Events
Silvertown Community Day
Join the Silvertown Engagement for a free Community Day on June 25th between 11am and 4pm for members of the community to visit the Silvertown site and experience its future potential.
There will be a variety of vendors from the Royal Docks and Beckton Moving Market, an ice cream van, a local heritage exhibition, and an exhibition on the latest proposals for the site. There will also be free activities for kids, including a play area and gardening workshop. We are offering free ice cream for the first 100 visitors to our exhibition who fill in a feedback form!
The exhibition will focus on the latest proposals for the Silvertown redevelopment project, building on the proposals we presented during our last community exhibitions in early March. This exhibition will play back changes that have been made to the proposals because of engagement to date, including feedback from the Silvertown community exhibitions and Commonplace engagement website, subsequent pop-up events, and a series of Design Code Workshops. It will also be one of the last opportunities for community members to influence change to the proposals in advance of the planning application submission later this year. 
Please be mindful that the Silvertown site is an active development/construction site with related hazards, including loose gravel/rocks, broken concrete, uneven surfaces, access to open water, wildlife, and construction material storage. All hazards will be clearly marked. Please wear closed toe and comfortable shoes when you come on site.
For your visit
Food & Drink
Nani Café
Beans on toast, paninis, and other homely lunch options at equally homely prices.
Attractions
City Hall
One of the world's most sustainable buildings is also a striking landmark.
Food & Drink
Cafe Bonane
Down-to-earth cafe serving fried breakfasts and hearty lunches on the dockside.