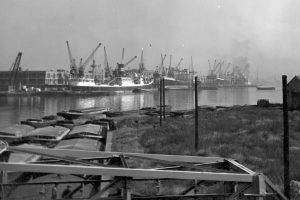 Events
Royal Docks History Club Talk Show
Special guest speakers include:
Peter Stone (author, "The Port of London"),
Melissa Ford (Newham History Society, who will share personal experiences on Royal Docks Haunted Places)
Colin Grainger (Forgotten Stories blog author, talking about growing up in Royal Docks) and
Graham David Hill (author, "The Silvertown Explosion").
How to Attend
The event will be live on the @NewhamHeritageMonth Facebook page where you will be able to participate with comments and send questions. We will also stream live on the Newham Heritage Month Website on 25 June 6-8pm
Please register through Eventbrite to get a reminder sent straight to your inbox.
https://www.eventbrite.co.uk/e/the-royal-docks-history-talk-show-tickets-107681261552
For your visit
Outdoors
Britannia Village Green
Every experimental urban village needs a green. This one has a basketball court.
Outdoors
Lyle Park
It's easy to miss Lyle Park's narrow entrance, but its triangle of green with a river view is worth exploring.
Art & Culture
Lightship 93
A photo shoot location like no other: a meticulously-preserved lighthouse vessel.