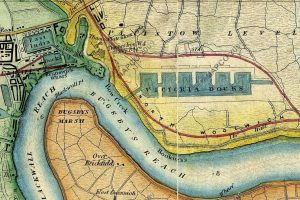 Royal Docks History Club: A History of Maps & Boundaries
Meeting monthly at RDLAC, this club celebrates local history through talks and discussion, followed by dinner for a donation.
This month, Layers of London will give a presentation on historical maps and boundaries of the local area and will facilitate an audience discussion on how boundaries shape and influence / impact daily lives.
Layers of London is a map-based history website. Users can access free historic maps of London and contribute stories, memories and histories to create a social history resource about their area. In this session Tom Furber will also give an introduction to the website and the histories contained within.
For your visit
Community
Royal Docks Learning & Activity Centre
RDLAC has spent 50 years serving the North Woolwich community, from after-school clubs to conservation projects.
Outdoors
Royal Victoria Gardens
These 19th-century pleasure gardens are still a delightful place to watch the river go by.
Community
Asta Community Hub
Asta takes a holistic approach, supporting the North Woolwich and Silvertown community from birth to old age.