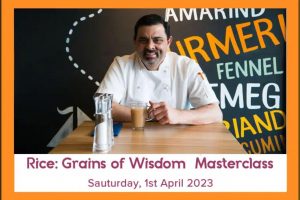 Events
Rice: Grain of Wisdom
Cyrus Todiwala's Academy offers a range of experiences; from demos to masterclasses, private groups classes to 1-2-1s, where, within a relaxed, intimate teaching environment, Cyrus Todiwala OBE DL will share his secrets on a range of relevant topics, from how to create time-honoured recipes to honing complex cooking techniques.

Cyrus Todiwala's Academy is perfect for professional chefs and would-be chefs or any food lover who wishes to cook and learn from some of the best talents in the industry."

"A staple for over 3.5 Billion people globally has not found itself fully engrained into the British culinary culture. However the desire to eat more rice and explore its many varieties is growing rapidly – with more and more British homes cooking rice at least once a week. Whilst Britain doesn't grow rice, they do in Europe – especially the Southern countries. Italy alone grows over a hundred varieties!" – Cyrus
Rice offers itself in many forms, there are said to be more than 40,000 varieties of cultivated rice and that is only the ones we know of.
Cyrus will be focusing on showcasing two or three types; looking at different textures, flavours and styles to create an array of dishes. The purpose of the session is to kindle your creativity and exploratory interest in trying different varieties and styles to add to your growing repertoire or rice dishes.
Class to include:
Refreshments, Tea/Coffee on arrival and a Wine, Beer or a Soft Drink afterwards to enjoy with your food.
1.5hr Demo including Q&A.
Timings:
3:45pm: Arrival & Tea/Coffee 4-5:30pm
Session – In this session Cyrus will be demonstrating various rice dishes with the opportunity for Q&A during the class
5:30pm onwards: Refreshments – Attendees are invited to stay and enjoy drinks & the dishes crafted during the session, enjoy chatting to other attendees as well as Cyrus in a more informal setting.
Day is expected to end at approx 6:30pm