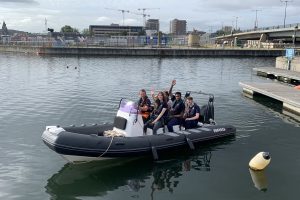 Royal Docks Originals
RIB Rides
See the iconic architecture of the Royal Docks as you've never seen it before – from the water.
Atlantic Pacific International Rescue is running trips around the docks in one of its search and rescue RIBs (rigid inflatable boat), giving you the opportunity to forget the pavements and see the likes of Millennium Mills and SS Robin up close and from a totally new angle.
Atlantic Pacific International Rescue is an organisation that aims to cut deaths by drowning by offering lifeboats and trained crew where there's no official water rescue service.
Time & date
10am to 4pm (last ride 4pm to 4.30pm)
23 & 30 Oct

For your visit
Art & Culture
The Line
Sculpture trail leading from the O2 to the Queen Elizabeth Olympic Park via Royal Victoria Dock.
Art & Culture
Lightship 93
A photo shoot location like no other: a meticulously-preserved lighthouse vessel.
Places To Stay
Good Hotel London
This floating hotel is also a not-for profit organisation that invests in the local community.