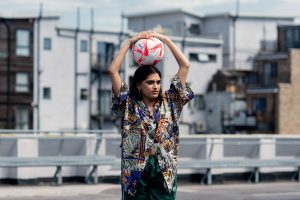 Queens' Roar! - fun, friendly football tournament and family day!
The Royal Docks Team are hosting a free, fun one-day football tournament (five-a-side) for Newham-based women and girls football teams this Summer! As the Women's Euros roll into town this summer, Green Street, with its vibrant culture and rich footballing heritage, is the inspiration for Queens' Roar, a series of cultural moments celebrating women, football and culture.
If you're a Newham-based team – get in touch as we'd love you to come and play. This is a fun, friendly tournament for local teams!
If you're a football fan or just fancy a day out in the park - all are welcome to come and watch and cheer on the teams. Bring the family too as there are free activities to get involved with on the side lines:
Fun football coaching sessions for younger children
Badge making workshops to design your own football emblem or badge
Photography 'booth' with brilliant local photographer Sylvie Belbouab, who will also be taking portraits of the teams on the day
Come and join us for a fun day in the park and let's celebrate all the brilliant talent from local women and girls' teams and get excited ahead of the Women's EUROS finals later in July!
How to sign your team up:
Please get in touch if you're a Newham (or East London) based team who wants to play by contacting: lisa.brivati@activenewham.org.uk
Date: Saturday 16th July
Venue: Central Park, High Street South East Ham E6 6ET
Time: 10:30-2:30pm
Fee: FREE
Age: Adult and U16 (minimum age 12)
Tournament: Five-a-side
Photographer Sylvie Belbouab will also be taking photographs of teams on the day (if you want your photo taken), so it's a great chance to have your team's portrait taken by an amazing photographer!
For your visit
Activities
London Royal Docks Open Water Swimming
Swim outside year round against the historic backdrop of Royal Victoria Dock. Safety tagging included.
Art & Culture
RAW Labs
Sample an impressive range of art events and workshops, or just the great coffee, at this Bow Arts caff.
Food & Drink
Nani Café
Beans on toast, paninis, and other homely lunch options at equally homely prices.