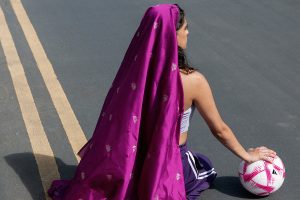 Royal Docks Summer Programme
Queens' Roar!
Women can do whatever they want to do, wherever they are, in any way, shape or form
As the Women's Euros roll into town this summer, Green Street, with its vibrant culture and rich footballing heritage, is the inspiration for a series of cultural moments celebrating women, football and culture.
These include a new contemporary dance performance by Chandenie Gobardhan that will pop up in Queen's Square across the afternoon on 23 July; a special anthem (available online) co-created with local schools and women from the area with poet and artist Tyreis Holder; and a series of bespoke football kits designed by young designers studying at Caramel Rock, together with RAW Lab artists Hafza Yusuf and Yuliya Krylova and local women footballers.
On Saturday 16 July we will also host a free one-day, five-a-side football tournament for local women's and girls' teams in the Royal Docks. Get in touch if you're a Newham-based team who wants to play!
For your visit
Food & Drink
Airline Cafe
No one complains about all-day breakfast for under a fiver. Right next to the ExCeL, this cafe-diner opens early to late.
Community
Asta Community Hub
Asta takes a holistic approach, supporting the North Woolwich and Silvertown community from birth to old age.
Activities
NASSA Sport
Community basketball club for 8 to 18 year-olds from Newham, in partnership with UEL.