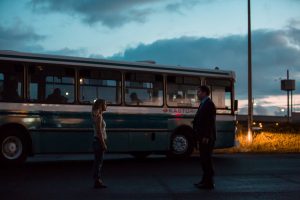 Art & Culture
Passenger at GDIF
The stage for this piece of immersive theatre is an ordinary suburban bus. As the audience travels through the Royal Docks, a conversation between two passengers unfolds into an "intimate yet epic" story. This play by Jessica Wilson blurs the lines between reality and fiction, and has been praised for its spectacular final sequence.
GDIF are kindly offering two free tickets to the 7:30pm performance on Thursday 27 June. To enter, comment on Twitter, Facebook or Instagram, or email us.
Other Greenwich+Docklands International Festival events in the Royal Docks:
Daedalum, 21-23 June
Cristal Palace, 6 July

Part of the London Festival of Architecture 2019.
For your visit
Art & Culture
RAW Labs
Sample an impressive range of art events and workshops, or just the great coffee, at this Bow Arts caff.
Activities
SportsDock
State-of-the-art UEL sport facilities, offering martial arts, table tennis, badminton, and more.
Food & Drink
Galyons Bar & Kitchen
This 19th-century dockside inn has recently been reborn as a waterside gastropub.