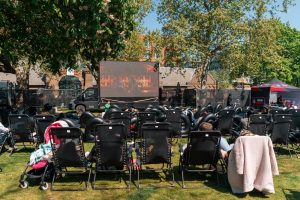 Events
Outdoor cinema at the Royal Docks
This summer the Royal Docks plays host to the ultimate outdoor cinema experience on an weekend screening of classic movies.
On Friday 12th-Sunday 14th August, Vision Cinema is taking over Royal Albert Wharf with a walk-in cinema that combines both vehicular access with traditional cinema seating. Prepare to break traditional cinema boundaries with non-glasses 3D outdoor screenings, special summer events and much more.

For free showings, you can reserve your seat for £3 per person, and then be reimbursed with a free box of salt or sweet popcorn for you to enjoy during the film! For other films, we have a range of different price options for children, adults as well as family and VIP packages.
Please note that not all films will be suitable for children, so do take close attention of the age limits for each screening.
The full schedule is listed below and can also be viewed here for further information, where you can also view the ticket options.
Address:
Royal Albert Wharf, 8-9 Upper, Dock Walk, London E16 2GU
Nearest Transport: DLR (Gallions Reach)

Schedule:
Friday 12th August
The 40-Year-Old Virgin (15) - FREE SHOWING
4.30pm-6.40pm
Scream (18)
7.40pm-9.40pm
Saturday 13th August
The Bad Guys (PG)
1pm-2.40pm
Fantastic Beasts: The Secrets of Dumbledore (12a)
3.40pm-6pm
The Art of Love (12a)
8pm-9.50pm
Sunday 14th August
The Bad Guys (PG)
12.30pm-2.10pm
Spider-man: No Way Home (12a)
3.10pm-5.40pm
Fantastic Beasts: The Secrets of Dumbledore (12a)
7.40pm-10pm