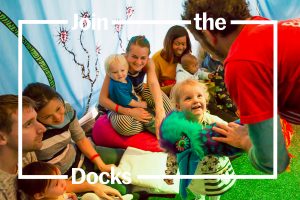 Nautical Story Telling
We will be getting nautical with our drop-in crafts, creating mini stick-rafts and boats. You can launch these wherever you like - in the Royal Docks, in the Thames, have a race in your paddling pool with a friend, or even try them out in your bath at home.
Our brilliant Story Builders will be there to guide you, with watery themed stories and games throughout the day.
For your visit
New Arrival
Art & Culture
Making Space: Custom House Is Our House
Installation art comprising a life-sized group portrait of individuals who live and work on Freemasons Road. Part 3 of the Making Space series by Jessie Brennan.
Activities
Wakeup Docklands
Wakeboarding, paddleboarding, and paddleboard yoga – for beginners and back-flippers alike.
Activities
Royal Docks Adventure
Power boats, rowing boats, dragon boats, canoes – everything you need for an afternoon on the water.