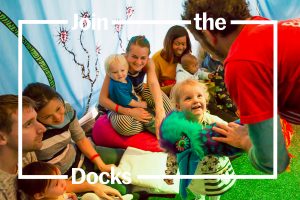 Nautical Story Telling
We will be getting nautical with our drop-in crafts, creating mini stick-rafts and boats. You can launch these wherever you like - in the Royal Docks, in the Thames, have a race in your paddling pool with a friend, or even try them out in your bath at home.
Our brilliant Story Builders will be there to guide you, with watery themed stories and games throughout the day.
For your visit
Outdoors
Thames Barrier Park
This dramatically-landscaped park is the best place to watch the Thames Barrier in action.
New Arrival
Food & Drink
Triple Two Coffee
Located inside the Royal Wharf Clubhouse, Triple Two Coffee sits within the focal point for daily health and fitness classes, swimming and neighbourhood events.
New Arrival
Food & Drink
Husk Brewing
There's a new brewer in town, right where the first IPAs were once shipped from. Watch out for live music nights in the bar.