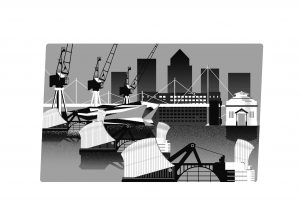 Join the Docks
Musicity Workshop
The workshop introduces MSCTY contribution to the Join the Docks 2020 festival by looking at how listening, sound and music offer a way of exploring place in the changing landscape of the Royal Docks. At a time when our relationship with the city has been radically transformed by Covid-19 and the restrictions it places on our movement, how can we reconnect with it by paying attention to the urban soundscape, the voices of its people and the music produced in response to its architecture?
This online workshop brings together public historian Toby Butler, whose Ports of Call project maps and interprets the working history of the area through oral history interviews, archive recordings and walks; artist and professor Alberto Duman, who led Music for Masterplanning, a soundtrack for the imagined future of the Royals devised by musicians and other members of the local community; and Foteini Aravani of the Museum of London, who recently worked with artist Larry Achiampong on his audio work for the Emirates Airline cable cars. The discussion will be introduced by Harsh Agarwal, Project Manager at MSCTY and Debbie Kent, an artist who is currently researching a PhD centred on field recordings and soundwalks in the Royal Docks and Silvertown.
To book your free ticket to this online event click here.
For your visit
Food & Drink
Nakhon Thai
Thai restaurant overlooking the docks, with a Polynesian-style cocktail bar.
Food & Drink
Galyons Bar & Kitchen
This 19th-century dockside inn has recently been reborn as a waterside gastropub.
Food & Drink
Fox@ExCeL
Relaxed pub sprawling across different rooms of an old tobacco warehouse.