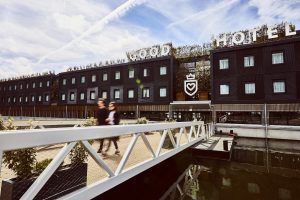 Events
Mother's Day Weekend at GOOD Hotel
It is with regret that we announce the postponement of this event until further notice

Make it for Mum

Sat 21 March | 10.00-11.30, The Living Room, FREE
Join the GOOD Hotel for a morning of crafting. The Good Team will lay out a table of pens, papers, scissors and glue so you can make something for Mum on this special weekend.
Book ahead "Make it for Mum": events@goodhotellondon.com
Mama Drinks on Us
Sun 22 March | All day, The Living Room
Book a table with us this Mother's Day, and every Mum can claim a free drink on us - because she deserves it! Offer includes house wines, fizz, soft drinks and classic cocktails. Book ahead "Mama Drinks": service@goodhotellondon.com
For your visit
Activities
Royal Docks CrossFit
Gym dedicated to CrossFit, the gruelling strength and conditioning phenomenon that athletes swear by.
Activities
Emirates Air Line
This cable car flying between the Royal Docks and North Greenwich offers panoramic views of the river.
Food & Drink
ZeroSette
Authentic Italian near the ExCeL, with a touch of flair.