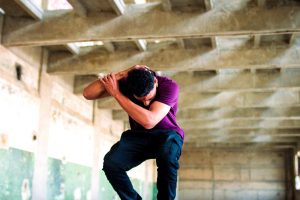 Art & Culture
Untethered: Royal Docks x Boy Blue – Millennium Mills
Millennium Mills has stood for nearly 100 years, a consistent icon in an everchanging landscape. Many lives have passed through the building but the structure has always been the same. Untethered explores how the structures that inform how we live our lives haven't been updated whilst individuals and sub cultures have changed and evolved in order to be relevant. A solo dancer breaks free from the constraints of the past to move into the future.
Boy Blue, an east London based hip hop dance theatre company, explore ideas and questions around London's identity and history, challenging the old ways with the new in a solo piece filmed in the historic Millennium Mills. With musical composition by Michael 'Mikey J' Asante, choreography by Kenrick 'H20' Sandy and creative direction from them both.
The film is commissioned by the Royal Docks Team and is now available to watch online as part of Open House Festival.
Untethered- Beyond OUR skin
An old decaying structure, dilapidated and cavern, no longer fit for purpose.
Created in the "Good Ole Days"
But for who?
It used to be filled to the brim with ideals of Society, all its views and Social Pressures of Perfectionism, Performance, Purity, Culture, Tradition and the need to Conform to its ways.
"The Norm"
This does not fit US any more the rules are archaic, feeble like these walls their views and Ideals do not represent us.
We cannot stay in this space it is NOT fit for purpose
He awakens.
Rises up
We feel and hear the space creak and shake, parts of it fall as it feels his unbound and New World energy.
An affront to the Old Guard, an Offence , an Insult even at a time he was a CRIME.
He cannot be defined by this structure their rules don't fit his existence.
He notices his skin
The Structure Groans.
He begins to remove the imaginary suit that was adorned on him when he was born.
It was all an Illusion
A form of control
"Know your PLACE!"
"You are BOUND to this space"
NO MORE!
He moves.
This space cannot contain him no longer.
His mission?
To leave.
As he reaches the exit he cups his mouth and shouts, summoning others to join his CALL.
Michael 'Mikey J' Asante
---
About Boy Blue
Founded in London in 2001, Boy Blue is the award-winning brainchild of composer Michael 'Mikey J' Asante and choreographer Kenrick 'H2O' Sandy MBE.
Weaving frontline stage and screen work around the elevation of hip-hop culture, Boy Blue have created works that include Pied Piper (2007), The Five & The Prophecy of Prana (2013), Blak Whyte Gray (2017), Outliers (2018) and REDD (2019). Film work includes R.E.B.E.L, and Emancipation of Expressionism, a set work of the GCSE Dance syllabus. Boy Blue run a highly respected dance training programme in east London and teach, train and mentor throughout the UK and internationally.
For your visit
Food & Drink
Lockside Kitchen
Wharfside community cafe offering a regularly-changing menu of healthy and affordable food.
Food & Drink
Al Masar
Hot and cold Lebanese mezze dishes on are on the menu here, alongside grilled meat. BYO, no cover charge.
Food & Drink
La Barrique
Welcoming wine bar just outside the ExCeL centre, with continental salad, pizza, and sandwiches.