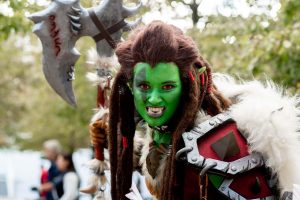 Art & Culture
MCM Comic Con Returns
We're looking forward to welcoming you back for an unforgettable three-day celebration of all things pop culture! Don't miss the chance to meet your favourite TV and film stars, the joy of browsing art from independent creators, the freedom to be yourself and all the special little moments you don't get anywhere else.

MCM London Comic Con brings amazing guests for you to meet, see in live panels, and take photos with at the show!
We're excited to welcome youhome to the greatest show of the year. Are you ready?
For your visit
Art & Culture
Millennium Mills
Derelict early 20th century flour mill turned screen icon; this Royal Docks landmark is due to be redeveloped.
Outdoors
Royal Victoria Gardens
These 19th-century pleasure gardens are still a delightful place to watch the river go by.
Art & Culture
Making Space: Take Your Place
This final part of Jessie Brennan's public art series was created in collaboration with the sports communities at Royal Docks Adventure.