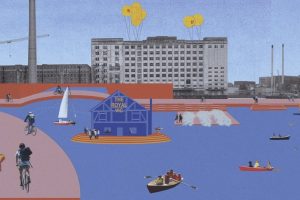 LSA Royal Docks Project
Do you want to see what architecture students would do if they got their hands on the Royal Docks?
Students from the London School of Architecture present their ideas for the Royal Docks including suggestions for activating the water, Millennium Mills and much more.
This is a roving exhibition that will start at RDLAC in June and be available at other local community hubs for people to visit and comment on.
Image: Charles McLaughlin, London School of Architecture.
Part of the London Festival of Architecture 2019.
For your visit
Food & Drink
Galyons Bar & Kitchen
This 19th-century dockside inn has recently been reborn as a waterside gastropub.
New Arrival
Food & Drink
The Snack Shack
Homemade cakes and hot food are on offer at this friendly and laid-back spot on St. John's Green.
Community
Britannia Village Hall
A hall-for-hire that holds 200; home to multi-faith activities, exercise classes, English lessons, and more.