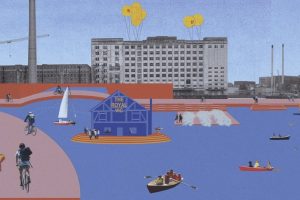 LSA Royal Docks Project
Do you want to see what architecture students would do if they got their hands on the Royal Docks?
Students from the London School of Architecture present their ideas for the Royal Docks including suggestions for activating the water, Millennium Mills and much more.
This is a roving exhibition that will start at RDLAC in June and be available at other local community hubs for people to visit and comment on.
Image: Charles McLaughlin, London School of Architecture.
Part of the London Festival of Architecture 2019.
For your visit
New Arrival
Food & Drink
The Snack Shack
Homemade cakes and hot food are on offer at this friendly and laid-back spot on St. John's Green.
Community
Royal Docks Learning & Activity Centre
RDLAC has spent 50 years serving the North Woolwich community, from after-school clubs to conservation projects.
Food & Drink
Starbucks Coffee
Just off the walkway linking Custom House DLR with the ExCeL, this branch is a favourite quiet spot for students.