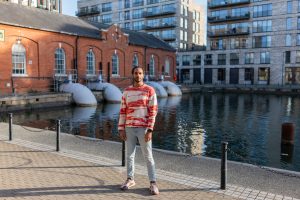 Events
Loose Ends Workshops
The V&A has partnered with Bow Arts to create two Artist Fellowships exploring histories and practices of making, manufacturing and materials in Newham.
The artists will be based at Bow Arts in Royal Albert Wharf and will work closely with the V&A Research Institute (VARI), the National Art Library (NAL) and Archives teams, as well as with V&A East, to examine local ecologies and our relationship to nature within the urban environment.
Adam Moore, an east London artist, is in residence from September to December 2023 and has curated a public programme of events.
Loose ends — Local Ecologies and Materials in Newham is a series of free workshops bringing together artists, designers, architects and cultural producers working across ecology and the built environment to explore local ecologies and materials in Newham.
Hosted by the Department of Architecture and Visual Art (AVA) at the University of East London's Docklands campus, the workshops invite you to participate in transforming notions of what it means to be local and to work artistically with people, places, ecologies, and materials.
Workshop dates:
Thursday 16th November What does it mean to be local?
Thursday 23rd November What are local ecologies?
Thursday 7th December What are local materials?
For your visit
Community
London Borough of Newham
The dockside HQ of Newham Council.
Places To Stay
Hampton by Hilton
A reliable, upper mid-range option just east of Connaught Bridge.
Places To Stay
Holiday Inn Express
There's unlimited breakfast at this three-star hotel right next to Royal Albert DLR.