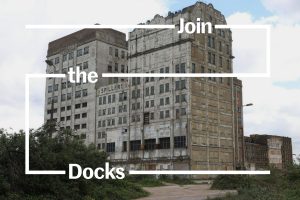 London Open House: Millennium Mills
As part of Open House London 2019, we are excited to offer a unique opportunity to take a tour inside the iconic Millennium Mills in the Royal Docks.
The tours are conducted by Paul Talling, author of the Derelict London website and books, and will give exclusive access to dusty factory floors, hidden narrow staircases and the incredible views from the roof of this historic building. Along the way you will hear about the life of the building from it's heyday in the 1920s & 30s as a flour mill through to the current plans for its redevelopment.
---
Important Information
The tours are ticketed and only those who register for a ticket through Eventbrite will be able attend.
When booking a ticket please be aware that the tours include a climb to the roof via 10 flights of steps and once started there will not be an opportunity to not complete the full tour.


To ensure a place on one of the tours you must sign up for a specific timeslot.
Due to the derelict nature of the building spaces are limited to 10 people per tour and attendees must be over 16 to take part.
Tickets for this event have now sold out.
For your visit
New Arrival
Art & Culture
Making Space: Go the Distance
Installation artwork by Jessie Brennan, created with Peacock Gym by collecting images from the archive of this renowned community boxing hub. Part 1 of 4.
Outdoors
Thames Barrier Park
This dramatically-landscaped park is the best place to watch the Thames Barrier in action.
Art & Culture
Lightship 93
A photo shoot location like no other: a meticulously-preserved lighthouse vessel.