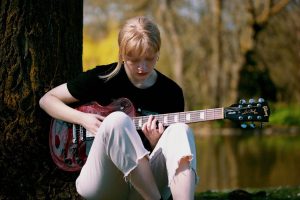 Live at the Silver Building: Rosie Frater-Taylor
East London singer, songwriter and guitarist Rosie Frater-Taylor blurs the lines between jazz, folk, pop and soul. Think Joni Mitchell meets Pat Metheny or a female version of John Mayer.
Blending adventurous song-writing with a whimsical pop sensibility, multi-layered acoustic soundscapes and virtuoso guitar skills, she's caught the attention of the likes of Gilles Peterson, BBC 6 Music's Tom Robinson and BBC Radio 1's Abbie McCarthy.
The series Live at the Silver Building is three nights of free world-class music programmed by renowned creative producers, Serious. The other concerts see performances from guitarist Justin Adams and gimbri player Mohamed Errebbaa, and singer and violinist Alice Zawadzki. Plus, don't miss Soho Radio's Max Reinhardt's sessions at the Good Hotel bar, inviting musicians such as Camilla George and Arun Ghosh to join him as he blends beats and live music.


Suitable for ages 14+

For your visit
Food & Drink
Tereza Joanne
Tereza Joanne's main function room holds 300 buffet-style; find this barge permanently moored on Albert Island.
Community
Royal Wharf Community Dock
From adult ballet classes to dance and drama classes for kids, this new centre in the heart of Royal Wharf has begun with a bang.
Food & Drink
Yi-Ban
This Chinese restaurant occupies a floor of the London Regatta Centre overlooking the Docks, meaning diners can plane-watch over a plate of dim sum.