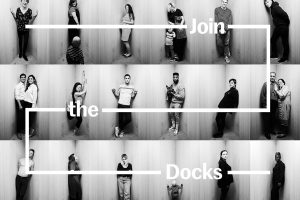 Isolation | Association
What happens when we strip someone of their context? Does it change who they really are, or just who we perceive them to be? Aidan Brooks and Sarah Lang are a photographer and artist, both working in studios at Royal Albert Wharf, who are hoping to draw attention to the growing art scene in the Royal Docks.
Isolation
Over the first weekend, photographer Aidan Brooks will capture portraits of people from Royal Docks in his Corner Box, created specifically for this project. Corner Box is deliberately designed to separate the subjects from their lives — complete with prejudices and expectations — and environments, the visual clues we rely on that answer the question, "Where does this person fit in society?" By standing or sitting in the Corner Box, the subject is in isolation. All are welcome, and you will be gifted with a free copy of your photograph at the end of the project.
Association
Led by artist Sarah Lang, five Corner Box portraits will be selected by five artists. They will then create a piece of work based on a narrative inspired by the isolated subject. These pieces of art, alongside the photographs, will be exhibited on the second weekend.
Isolation | Association
This exhibition is borne from the work in the previous two sessions. Will the artists' narratives align with real life? Once people are isolated from their surroundings, are they gifted the freedom to reinvent themselves, as the artists have reinvented them? The results of this three-way collaboration, between subject, photographer, and artist, have been created by association.
To have your photo taken, you (or your parent or carer if you are under 18) will have to sign an image release form.
Opening times
Thursday 19 Sep | Opening Night with drinks and nibbles from 7–9pm
Friday 20 Sep | Open day 12–7pm
Saturday 21 Sep | Open Day 12–7pm*
*Anyone who had their portrait taken for the project will need to collect on Saturday
For your visit
Community
Shipman Youth Zone
Drop-in youth centre for 11-19 year-olds with snooker, table tennis, and computer facilities on offer.
New Arrival
Food & Drink
The Royal Standard
The Royal Standard has re-opened under new management as a family-run pub that welcomes everybody, including children until 6pm.
Art & Culture
Lightship 93
A photo shoot location like no other: a meticulously-preserved lighthouse vessel.