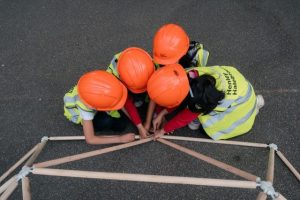 At the Docks
LFA2023: Introduction to Architecture – Geodesic Dome Workshop (Henley Halebrown Architects)
In the spirit of the famous words of the late MP Jo Cox, "We have more in common, than divides us", we seek to harness the diversity of our borough and our talented young population to explore our "common" and shared values and vision for the future of our borough, space and place.
As architects Henley Halebrown believe that the built environment is something that we all should enjoy. It is where we live, work and play. We will explore how buildings are designed and what makes them look the way they do. Children will be introduced to some key concepts and encouraged to produce a shared design for their class building.
There is also the opportunity for children's work to be accredited with an Arts Award Discover certificate. For more information about the Arts Award visit: www.artsaward.org.uk
Topics include:
Health & Safety, Measurement, Science/ Sustainability/ Energy, Design & Technology.

This can also include Creative Writing and History.

Building on what we have discussed, we will help the students construct a large geodesic dome.
We will show them how to read plans, how buildings are put together and why team work is so important. At the end of the day the school will have a dome to keep and use as they wish.
*Booking for this session is available to state Newham Primary Schools and is most suitable for KS1 and KS2.
This session is brought to you by Henley Halebrown Architects, in partnership with Dominus Group and the London Borough of Newham. To book please contact emma.deba-smith@newham.gov.uk

Part of the London Festival of Architecture 2023.

For your visit
Art & Culture
Making Space: Go the Distance
Installation artwork by Jessie Brennan, created with Peacock Gym by collecting images from the archive of this renowned community boxing hub.
Food & Drink
Top 1 Forever
Modern British restaurant overlooking of the water, with a wood-fired oven.
Places To Stay
Premier Inn
Perfectly positioned for access to the ExCeL.
Similar events