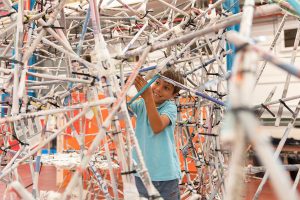 Art & Culture
Play with the Institute of Imagination this Summer
The Institute of Imagination is a children and families charity that champions the power of creativity to build skills and wellbeing through our award- winning events. This summer, join us live at the Royal Docks and online for creative workshops to make an orchestra from water, build a city from paper, and create your own microscope. Free tickets available to Newham residents at ioi.london/whats-on
Online with iOi at Home
Biomimicry & DIY Microscopes
2 & 9 August 10:00am
We will take a closer look at the inspiring shapes, patterns and colours you can see
in nature. Using a smart phone and a micro lens, learn how to build your own DIY microscope! We will lend out the equipment you need to take part, available at local Newham libraries. Ages 8-12.
Sculpting Paper Cities
21 July at 4:15pm & 29 July at 10:00am
In this workshop, we explore and experiment with structures, form and design. We will share top tips and techniques on how to shape, build and design with paper, so you can build your own unique cityscape. Ages 5 - 12.
Digital Handheld Cities
5 & 10 August 10:00am
Spark your imagination by creating your own 3D virtual world. Using coding, animation and virtual reality, join us to explore the different ways we can work with nature and build the spaces where we will live, learn and play in the future. Ages 8-12.
In Person
Make your Own Sound Orchestra (Expressway, The Royal Docks)

How can we experiment with sound? We are running interactive in-person workshops where you can play and tinker with everyday materials to create your own sound orchestra, inspired by the Royal Docks and the water. Ages 8-12.
Ages 8-12.
Dates: 7, 8, 14, 15, 21 and 22 August
Times: 12:00/ 14:00/ 15:30
Tinkering with Rain Sticks (Expressway, The Royal Docks)
Using upcycled materials, this creative workshop invites audiences to make and experiment at different scales, to extend and customise the sounds of the installation by creating individual take-home rain sticks.
Ages 5-12.
Dates: 7, 8, 14, 15, 21 and 22 August
Times: 12:00/ 14:00/ 15:30
These workshops are free for Newham residents but booking is required.
Open House Festival (Silvertown Quays) 27 -28 August
Drop in and help us reimagine Silvertown Quays using paper sculpting - or - book
a spot on our Virtual Architects workshop where you can redesign The Millenium Mills using Augmented and Virtual Reality. Ages 8 - 12.
Book now at ioi.london/whats-on Or discover on-demand content at home.ioi.london
For your visit
Outdoors
Royal Wharf Gardens
In this garden in the centre of the Royal Wharf development, you'll find a memorial to the Silvertown Explosion.
Places To Stay
Premier Inn
Perfectly positioned for access to the ExCeL.
Food & Drink
Heroica Lounge
It's a bus, it's an Italian restaurant; you decide whether to order pizza or pretend to drive.