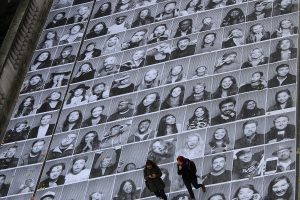 Events
Inside Out London
This very special Inside Out action, taking place during EURO 2020, will collect and display thousands of portraits of Londoners, capturing the story of London and the people that make up the city.
Inside Out will turn London into a massive outdoor art gallery - taking and printing portraits in our mobile photobooth van, and pasting them in public spaces across the city - a chance to celebrate Londoners and all those who have made a difference to their communities over the past year.
The Inside Out photobooth van visited the Royal Docks on 23 & 24 June, inviting anyone local to the area to take part and get their picture taken. The portraits will now be displayed along the dock edge for all to see from 7-11 July, coinciding with the 100th Anniversary of the completion of the Royal Docks and providing a perfect opportunity to celebrate the people who work and live here.
Please note, the portraits will be installed on the 7-8 July with the final exhibition available from the 9-11 July.

Royal Victoria Dock, One Siemens Brothers Way, London E16 1GB.
All events and activities will adhere to the Government's COVID-19 social distancing guidelines. Regular updates are also provided to organisers to ensure all events and activities are adhering to the most recent Government Coronavirus guidance and restrictions
For your visit
Community
Shipman Youth Zone
Drop-in youth centre for 11-19 year-olds with snooker, table tennis, and computer facilities on offer.
Community
Britannia Village Hall
A hall-for-hire that holds 200; home to multi-faith activities, exercise classes, English lessons, and more.
Outdoors
St John's Green
Community garden with allotment and children's play area.