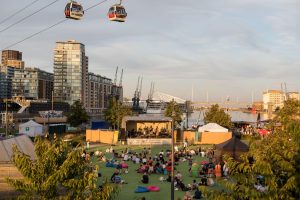 Conferences
Innovation in the Royal Docks
New London Architecture are presenting an evening showcase of innovation and development in the Royal Docks. NLA say:

This is the first event of the new NLA Royal Docks Programme, promoting regeneration in this area of London. The format, Pecha Kucha (ペチャクチャ), was devised in Tokyo in 2003 by the English architect Mark Dytham and has turned into a massive global celebration of design, with events happening in hundreds of cities around the world.
Drawing its name from the Japanese term for the sound of "chit chat", it rests on a presentation format that is based on a simple idea: 20 images x 20 seconds. The format makes presentations concise, keeps things moving at a rapid pace and holds its audience.
This event is taking place in Bloomsbury, not the Royal Docks.
For your visit
Food & Drink
Heroica Lounge
It's a bus, it's an Italian restaurant; you decide whether to order pizza or pretend to drive.
Art & Culture
Making Space: Custom House Is Our House
Installation art comprising a life-sized group portrait of individuals who live and work on Freemasons Road. Part of the Making Space series by Jessie Brennan.
Activities
The Quad Club & Spa
This spa, swimming pool and gym in the Crown Plaza Hotel offers calming treatments and classes.
Similar events