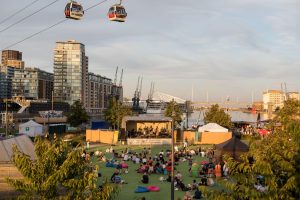 Conferences
Innovation in the Royal Docks
New London Architecture are presenting an evening showcase of innovation and development in the Royal Docks. NLA say:

This is the first event of the new NLA Royal Docks Programme, promoting regeneration in this area of London. The format, Pecha Kucha (ペチャクチャ), was devised in Tokyo in 2003 by the English architect Mark Dytham and has turned into a massive global celebration of design, with events happening in hundreds of cities around the world.
Drawing its name from the Japanese term for the sound of "chit chat", it rests on a presentation format that is based on a simple idea: 20 images x 20 seconds. The format makes presentations concise, keeps things moving at a rapid pace and holds its audience.
This event is taking place in Bloomsbury, not the Royal Docks.
For your visit
Business
London City Airport
The only London airport that's actually in London.
Food & Drink
Cafe Bonane
Down-to-earth cafe serving fried breakfasts and hearty lunches on the dockside.
Community
North Woolwich Library
This is more than a library; here you'll find a homework club, model railway society, and more.
Similar events