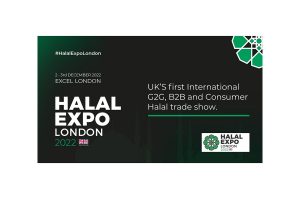 Events
Halal Expo London
Halal Expo London offers the opportunity to expand our sponsors, partners and exhibitors target demographic to a £1.8 trillion globally diverse and untapped halal market! Britain has one of the most sophisticated and well-connected Muslim consumer populations in the world.
The trade show expands across multiple sectors in serving the faith-inspired ethical needs of the worlds 1.9 billion Muslim consumers, creating trade, investment and networking opportunities.
This event is for everyone interested in marketing, sourcing products or services, specific to this rapidly expanding global halal market. We will welcome over 8,000 professionals, more than 300 exhibitors and 50+ national & international speakers.
The VIP buyers lounge will host retailers, distributors, wholesalers, food manufacturers, restaurants, caterers, travel agents and tour operators, banks and financial services providers. They will be taking an interest in the many sectors that will be exhibiting including; food & beverage, modest fashion, pharmaceutical, cosmetics, publishing, finance, wellbeing, travel and many more.
International country pavilions and trade delegations confirmed to participate this year are from; Indonesia, Malaysia, Nigeria and Pakistan. Many more countries are expected.
We will host the 'Halal Economy Conference' over the two days, where international industry leading speakers and thought leaders will share specialist insight into the latest innovations in this market. Panelist discussions, seminars and workshops will be available for you to pre-register.
Halal Expo London will also launch the 'Modest Fashion Show UK', bringing together the worlds biggest modest fashion brands to showcase the latest trends and collections. There will be children's entertainment, food and many other activities available for our consumer visitors. Join us at the world famous ExCeL London on 2nd & 3rd December 2022.
For your visit
Activities
Fight For Peace
Boxing and martial arts club helping young people affected by crime and violence achieve their potential.
Activities
Wakeup Docklands
Wakeboarding, paddleboarding, and paddleboard yoga – for beginners and back-flippers alike.
Community
Henley Arms
A local fixture since 1901, this pub seems untouched since its post-war refurbishment. Step back in time and enjoy a pint over a game of darts.