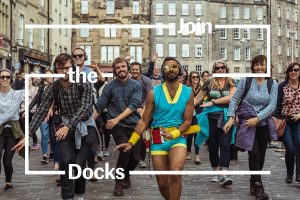 Guru Dudu Silent Disco Tours
The Guru Dudu team presents Silent Disco Walking Tours, fresh from a sell-out season at Edinburgh Fringe. Come on a sparkling dance-walk adventure through the Royal Docks, with headphones provided. Listen to the hilarious commentary from your tour guide and enjoy spontaneous flash-mobs of dance and singing to uplifting tunes from the 70s, 80s, 90s and 00s.
Warning: your cheeks may hurt from smiling.

This event is free, but the organisers ask that you book your place as spaces are limited. Free tickets are available for booking on the following dates:
Sat 7 September
1.30–2.30pm and 3–4pm
Sat 14 September
1.30–2.30pm and 3–4pm
Sat 21 September
1.30–2.30pm and 3–4pm
For your visit
Food & Drink
Airline Cafe
No one complains about all-day breakfast for under a fiver. Right next to the ExCeL, this cafe-diner opens early to late.
Activities
London Royal Docks Open Water Swimming
Swim outside year round against the historic backdrop of Royal Victoria Dock. Safety tagging included.
Activities
Wakeup Docklands
Wakeboarding, paddleboarding, and paddleboard yoga – for beginners and back-flippers alike.