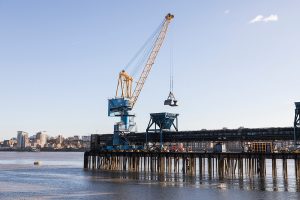 Sport & Activities
Guided walking tour: Spaces of Silvertown
Discover fascinating stories of the changing architecture of the Royal Docks as writer and journalist Owen Hatherley leads a three-hour walk that explores how the area has transformed over the decades.
Passing some of the iconic buildings in this historic part of London, such as at the Tate and Lyle Refinery and Brick Lane Music Hall, plus its newer spaces, the walk is a chance to think about the Royal Docks' past and future development.
Arguing that there's been a strange incoherence to the planning strategy, with successive developments laid on top of each other and never entirely joining up, Hatherley will encourage you to reflect on how architecture has responded to socio-political and economic changes.
This walk is inspired by and delves further into themes raised by Making Space, a series of large-scale outdoor artworks by artist Jessie Brennan that look at the historical, social, political and economic factors that impacted this area of London and shaped its identity. Two other walks take place in August. Poet and playwright Inua Ellams will guide people through a series of activities that respond to Brennan's work on 14 August; while on 21 August, sculptor and artist Eloise Howser will explore how different periods of river, road, rails and runways have impacted the area. Learn more about Making Space and find all four artworks around the Royal Docks here.
Making Space and the associated walks programme has been curated by UP Projects and commissioned by the Royal Docks Team.
All events and activities will adhere to the Government's COVID-19 social distancing guidelines. Regular updates are also provided to organisers to ensure all events and activities are adhering to the most recent Government Coronavirus guidance and restrictions.

For your visit
Outdoors
St John's Green
Community garden with allotment and children's play area.
Food & Drink
La Barrique
Welcoming wine bar just outside the ExCeL centre, with continental salad, pizza, and sandwiches.
Art & Culture
The Line
Sculpture trail leading from the O2 to the Queen Elizabeth Olympic Park via Royal Victoria Dock.
Similar events