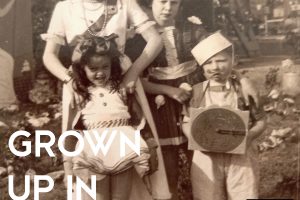 Royal Docks Originals
Grown up in the Docks
From Saturdays spent in the engine room on the Woolwich Ferry to heavy metal at the Bridge House and first jobs at the Tate & Lyle factory, the Museum of Youth Culture invited the public to share their everyday memories of growing up in the Docks.
Grown up in the Docks celebrates the stories collected, exploring the Docks' recent social history through memories of youth. This outdoor exhibition at the Thames Barrier Park Cafe brings together photographs and oral histories collected in response to the question; what is your strongest memory of being young?
Collected during a national lockdown in the midst of a pandemic, conversations were held on Zoom coffee mornings, during family zine making workshops and over long phone calls. The stories collected document the highs and lows of being a teenager, and what unites us across generations.

For your visit
Activities
London Royal Docks Open Water Swimming
Swim outside year round against the historic backdrop of Royal Victoria Dock. Safety tagging included.
Community
Shipman Youth Zone
Drop-in youth centre for 11-19 year-olds with snooker, table tennis, and computer facilities on offer.
Art & Culture
Making Space: Custom House Is Our House
Installation art comprising a life-sized group portrait of individuals who live and work on Freemasons Road. Part of the Making Space series by Jessie Brennan.
Similar events