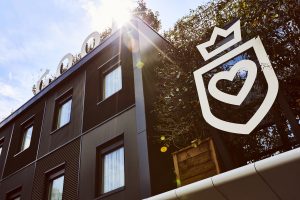 Events
GOOD Hotel events this April
Spring Market
1 Apr | 12:00-16:00 | FREE ENTRY
Kick off half-term at our Spring Market! Held in partnership with The Community Shop Newham, we will be bringing you a fun-filled afternoon of activities and treats for all to enjoy. Shop some of amazing artisans and local handmade gift stalls, or grab some lunch in the Good Hotel Living Room. Get crafty and "make your own masks" at our children's craft workshop, join our egg-cellent "Egg Hunts", listen to live performances and immersive storytelling.
Find out more at www.communityshopnewham.co.uk
Eggs-Stravaganza & Good Cinema
7 Apr | Eggs-Stravaganza 14:30-16:00, Shade FREE! | Good Cinema 17:00 start, Green Room | FREE!
Let's celebrate Easter with crafts, games, and entertainment for kids (and grown-ups too!). Come and decorate easter baskets and pictures, take part in Easter bingo where you can win prizes and hunt for hidden eggs in the hotel. Finish off your day with your goodies and watch Zootropolis at the GOOD Cinema.

Book ahead by contacting Shaqueen.wilson@goodhotel.co
Bollywood Kids Dance Class with Pooja
Mondays | 17:00-18:00, Blue Room | £6 walk-in or 4 classes for £30
An exciting way for kids aged 3-12 years to keep fit and get energised. Join Pooja for fun, easy, high energy dance hits from Indian cinema.

To register or to find out more call or drop a note to 07459 355187
Zumba
Wednesdays | 19:00-20:00, Green Room | Sundays | 18:30-19:30,
Green Room | £8 walk-in or 4 classes for £30
Join the ultimate dance fitness party with local licenced Zumba Instructor Swati Kaushal. The Zumba work-out combines Latin and international music with dance moves. Zumba routines incorporate interval training — alternating fast and slow rhythms — to help improve overall fitness.

Book ahead by reaching out via Instagram @zin_swati_kaushal or call 07306 025904
Girls Into Coding
16 Apr | 11.00-18.30, The Globe & Bookcase, FREE!
Girls Into Coding empowers girls aged 10 to 14 through tech, including unique hands-on experience in coding, robotics, physical computing, and 3D printing/design. The workshops are led by a range of Science, Technology, Engineering, and Mathematics (STEM) educators and mentors, including Avye (Founder of Girls Into Coding), who is in the same age range as the attendees.
Find out more and book ahead: www.girlsintocoding.com
The Wild Times Yoga Classes
18 Apr | 18.00 Vinyasa (60 mins) and 19.15 Yin (60 mins)
Green Room | £12pp
Join Jenny Clark, Founder of The Wild Times yoga & adventure retreats, for these monthly classes at Good Hotel. Vinyasa yoga, also called "flow" because of the smooth way the poses run together, is one of the most popular contemporary styles of yoga. Yin yoga classes target your deep connective tissues and bones. It's slower and more meditative, giving you space to turn inward and tune into both your mind and the physical sensations of your body. Wear warmclothes and socks for Yin.

Book via email or walk in: hello@thewildtimes.co

For your visit
Activities
The Quad Club & Spa
This spa, swimming pool and gym in the Crown Plaza Hotel offers calming treatments and classes.
Art & Culture
The Line
Sculpture trail leading from the O2 to the Queen Elizabeth Olympic Park via Royal Victoria Dock.
Food & Drink
Al Masar
Hot and cold Lebanese mezze dishes on are on the menu here, alongside grilled meat. BYO, no cover charge.