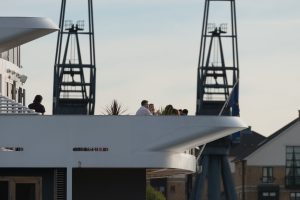 Art & Culture
Futuristic Polar Bears
Futuristic Polar Bears are a renowned DJ/musician duo who straddle the genres of house, EDM, and progressive.
You can catch them performing at the Royal Docks' luxury floating hotel, the Sunborn London.
Formed in 2010, Rhys Buckley and Fran Cosgrave have released many singles, and have been signed to labels Spinnin', Revealed Smash The House & Protocol recordings.
For your visit
Food & Drink
Starbucks Coffee
Just off the walkway linking Custom House DLR with the ExCeL, this branch is a favourite quiet spot for students.
Food & Drink
Airline Cafe
No one complains about all-day breakfast for under a fiver. Right next to the ExCeL, this cafe-diner opens early to late.
Places To Stay
Premier Inn
Perfectly positioned for access to the ExCeL.