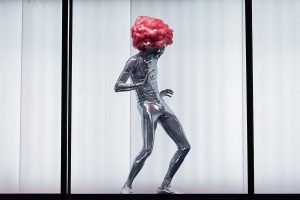 Art & Culture
Future Cargo
A truck arrives from an unknown location loaded with a mystery shipment. As the sides roll up a strange and unstoppable process is set into motion. Future Cargo is the latest outdoor work by Frauke Requardt & David Rosenberg. Created with longstanding collaborators, Hannah Clark (set and costume), Ben & Max Ringham (music and sound) and lighting designer Malcolm Rippeth.
Future Cargo is a sci-fi dance show performed in a 40 foot haulage truck and, like all Requardt&Rosenberg's shows, it delivers the delicate integrity of a deeply intimate experience within a large-scale dance spectacle. Future Cargo is showing as part of Greenwich+Docklands International Festival, London's largest and longest-running festival of outdoor theatre. The production's creators, Requardt and Rosenberg, are renowned for their innovative large outdoor shows which invite audiences to wear headphones to bring them closer to the performance.
---
All events and activities will adhere to the Government's COVID-19 social distancing guidelines. Regular updates are also provided to organisers to ensure all events and activities are adhering to the most recent Government Coronavirus guidance and restrictions
For your visit
Art & Culture
Making Space: Take Your Place
This final part of Jessie Brennan's public art series was created in collaboration with the sports communities at Royal Docks Adventure.
Community
University of East London
UEL's docklands campus is known for its state-of-the-art sports facilities and formiddable reputation.
Activities
NASSA Sport
Community basketball club for 8 to 18 year-olds from Newham, in partnership with UEL.