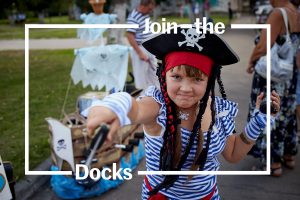 Ferry Tales
Take a dip into a world of watery tales and crafts with Ferry Tales creative workshops for families. Dock for a while and listen to sugar-sweet and sometimes murky tales of the water's edge, mermaids, and river treasures.

We'll also be making dressing-up accessories and boats and planes for the great race at the Ferry Festival on 10th August. For more information contact CN.BecktonRoyalDocks@newham.gov.uk.
Workshop timetable
Wed 31 July, 11am–3pm
St Johns Green, Albert Road, E16 2JH
Thu 1 August, 4pm–6pm
North Woolwich Library, Pier Parade, E16 2LJ N
Sat 3 August, 1pm–4pm
Britannia Village Green, Hanameel Street, E16 1UA
Wed 7 Aug, 11am–3pm
Thames Barrier Park, North Woolwich Road, E16 2HP
Fri 9 August, 12pm–4pm
Asta Community Hub
Sat 10 August, 2pm–6pm
Royal Victoria Gardens, Pier Road (off Albert Road), E16 2JJ

For your visit
Attractions
The Crystal
One of the world's most sustainable buildings is also a striking landmark.
Art & Culture
Making Space: The People's Plan
Large-scale artwork reproducing 'The People's Plan for the Royal Docks,' a 1980s community-led project to oppose the airport.
Food & Drink
The Oiler Bar
Bars on boats are always a good idea, especially when they have a cocktail bar downstairs.