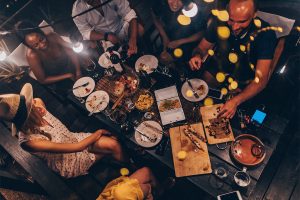 Art & Culture
FeastFest Supper Club
Join us at our Supper Club hosted at the local taproom, Husk, where Chef Kevin Richardson, an esteemed culinary maestro, will take you on a 5-course tasting menu journey that fuses his artistic talents with culinary excellence. With a background in musical theatre, Kevin infuses creativity into his exquisite dishes, promising diverse flavours and unforgettable experiences. His impressive career includes roles on the South Bank and managing the Stratford Circus café/bay, earning him acclaim from critics like Jay Rayner and the Love London Award for Best Local Restaurant. Come for the food, stay for the shared stories and meaningful connections – it's a night of community, cuisine, and laughter that nourishes both body and soul. Welcome to the table!
Supported by the Royal Docks Team, Supper Club is part of FeastFest
Food Menu £55/person
Amuse Bouche:
Harira Soup (vg), lamb or vg bureka
Starter:
Bharwin Phoolgobi (Indian stuffed and grilled cauliflower), spiced aubergine puree (vg)
Fish:
Spicy Crab Risotto, Asian slaw, fresh lime and crispy onions
Intermezzo:
Yuzu iced tea with sake
Main:
Braised Beef Cheek, celeriac puree, beer and butter glazed turnips and roasted leaves
Dessert:
Acorn Tart, chestnut whipped cream, chocolate and nut crumble
Drink Pairings £30/person
A glass of Cremant on arrival
A glass of sparkling sake with the fish course
A glass of Nappa Valley Merlot
A glass of Royal Blue Tokaji
For your visit
Community
Shipman Youth Zone
Drop-in youth centre for 11-19 year-olds with snooker, table tennis, and computer facilities on offer.
Community
Royal Wharf Community Dock
From adult ballet classes to dance and drama classes for kids, this new centre in the heart of Royal Wharf has begun with a bang.
Business
Tate & Lyle Sugars
This refinery on the banks of the Thames has been producing sugar by the tonne for over 140 years.