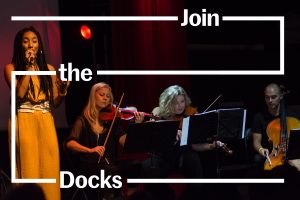 Join the Docks
Certain Blacks Ensemble Festival
The Certain Blacks Ensemble Festival will feature circus, music, performance and live art, created by artists working outside of the mainstream. This is a festival celebrating diversity, rather than one based on artists' backgrounds or identities.

The festival features new and established performers alike, with a line-up including international jazz artists, aerial circus, spoken word and dance performances — and maybe even hula hoops, roller skates, and spurting fountains.

For your visit
Food & Drink
Heroica Lounge
It's a bus, it's an Italian restaurant; you decide whether to order pizza or pretend to drive.
Food & Drink
Cafe Bonane
Down-to-earth cafe serving fried breakfasts and hearty lunches on the dockside.
Places To Stay
Premier Inn
Perfectly positioned for access to the ExCeL.