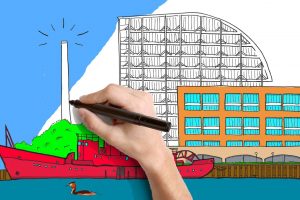 Art & Culture
Doodling the Docks Drawing class
Learn to sketch local landmarks in this fun workshop where you will create your very own dock landscape with local artist Matt Ponting.
Beckton based Artist and Illustrator Matt Ponting specialises in colourful architectural drawings that bring the local area to life. His artwork has been used on jigsaws and chocolate bars.

Instructions and materials for participants to prepare: To doodle along with the video, you'll need pens, paper, and felt-pens/colouring pencils.
For your visit
New Arrival
Food & Drink
Perky Blenders
Everything about Perky Blenders x Goodvibes is upbeat and friendly, from the name and the decor all the way to its coffee.
Places To Stay
Good Hotel London
This floating hotel is also a not-for profit organisation that invests in the local community.
Food & Drink
ZeroSette
Authentic Italian near the ExCeL, with a touch of flair.