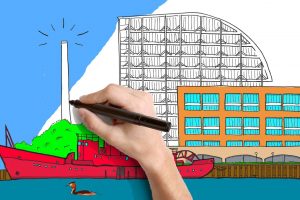 Art & Culture
Doodling the Docks Drawing class
Learn to sketch local landmarks in this fun workshop where you will create your very own dock landscape with local artist Matt Ponting.
Beckton based Artist and Illustrator Matt Ponting specialises in colourful architectural drawings that bring the local area to life. His artwork has been used on jigsaws and chocolate bars.

Instructions and materials for participants to prepare: To doodle along with the video, you'll need pens, paper, and felt-pens/colouring pencils.
For your visit
Food & Drink
The Living Room
The Good Hotel's floating restaurant dishes up locally-sourced comfort food with a Spanish twist.
Food & Drink
Cafe Bonane
Down-to-earth cafe serving fried breakfasts and hearty lunches on the dockside.
Places To Stay
Holiday Inn Express
There's unlimited breakfast at this three-star hotel right next to Royal Albert DLR.