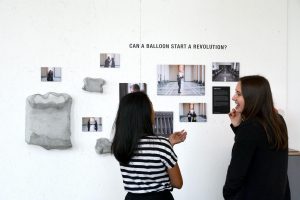 Does Empathy Have Boundaries?
This exhibition presents materials from the first three months of Enni-Kukka Tuomala's Campaign for Empathy.
From her base in RAW Labs, this Finnish artist has been challenging Newham residents to consider each others' perspectives through a series of public events, and to bridge the gaps between different members of the community.
As part of the campaign, Enni-Kukka has explored the power structures and hierarchies in Newham, one of London's youngest and most diverse boroughs. The exhibition showcases outputs from her collaboration with local decision-makers and members of the community, presenting work such as empathy maps and empathy imprints for the first time.
Part of the London Festival of Architecture 2019. Photo: Lunes.
For your visit
Art & Culture
RAW Labs
Sample an impressive range of art events and workshops, or just the great coffee, at this Bow Arts caff.
Activities
NASSA Sport
Community basketball club for 8 to 18 year-olds from Newham, in partnership with UEL.
Food & Drink
Lockside Kitchen
Wharfside community cafe offering a regularly-changing menu of healthy and affordable food.