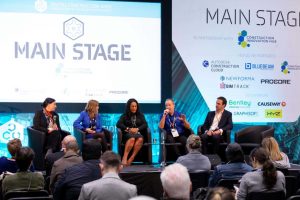 Conferences
Digital Construction Week
Digital Construction Week is a two-day UK event for digital design, construction, engineering, manufacturing and operations.
The aim is to help the construction industry use technology to build smarter. Join us on 18-19 May 2022 at ExCeL London. And learn about the tools and processes shaping the future of the built environment.
Don't miss your chance to:
DO BUSINESS: Meet the tech providers who can help you design, build and operate smarter.
BE INSPIRED: Hear from industry experts and thought leaders sharing their knowledge and insights.
NETWORK: Make valuable new connections and share ideas and experiences with peers.
TOP UP YOUR CPD: Get those last missing CPD hours in before the end of the year.
GET AHEAD OF THE COMPETITION: Be the first one to discover the latest trends and the newest product and services on the market.
Join 5500+ industry professional and discover the newest technology to revolutionise your building projects.
For your visit
Business
Tate & Lyle Sugars
This refinery on the banks of the Thames has been producing sugar by the tonne for over 140 years.
Food & Drink
Il Volo
Il Volo serves Italian comfort food that salutes the docks' history at the centre of world trade.
Art & Culture
Brick Lane Music Hall
This cheery oasis of Victorian nostalgia hosts unique Music Hall-style shows which attract visitors from all over the world.