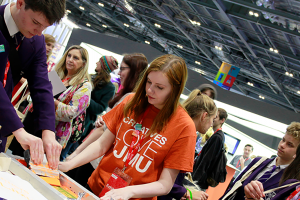 Conferences
Create Your Future 2019
Create Your Future is UCAS' flagship event for people interested in pursuing a creative career. Have a truly immersive experience as course leaders, current students, and industry specialists answer questions and give advice, and performances bring your future to life. If you're interested in a creative future, this event will help you decide on your next steps.
For your visit
Food & Drink
Top 1 Forever
Modern British restaurant overlooking of the water, with a wood-fired oven.
Activities
Emirates Air Line
This cable car flying between the Royal Docks and North Greenwich offers panoramic views of the river.
Food & Drink
La Barrique
Welcoming wine bar just outside the ExCeL centre, with continental salad, pizza, and sandwiches.
Similar events