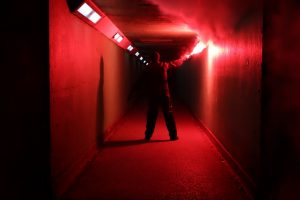 Chthonic
This performance art piece is now finished, but the exhibition continues until June 30. Spectators are invited to take one of the bound knuckles from the sculptural installation.

RAW labs presents the London born performance artist, Thomas John Bacon (TJB). On the 21st June 2019 at 4:43am the sun will rise on the longest day of the year. A boundary of time on an intersection of elemental, geographic and psychogenic landscapes.
We will meet at 51.5050185, 0.0777211
A wasteland, where modernisation meets the industrial and natural land.
Where the Sun rises to purify through
smoke
and flame,
these destroyed joints and fragile Self/s.
Moving through the landscape,
binding the avulsions.
Never healed but somehow surviving. The performance will end as the Sun sets.
- The sun will rise again -
About the Artist:
TJB has been exhibiting work since 2001 and internationally since around 2009, particularly through UK, Europe and East-coast USA. Xe makes work that focuses upon the conception of the body, Being and the idea of a multiplicity of Self/s in performance. A practice that can be located within the framework of performance art and philosophical/phenomenological investigations that look to de/construct and challenge perception, alongside the assumed liminal barriers of body-based art. TJB is also artistic director of London's Biennial of International Performance Art, Tempting Failure.
RAW labs will be open from 11am until 10pm serving refreshments.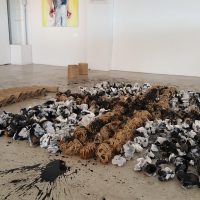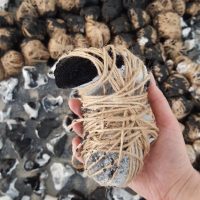 For your visit
Art & Culture
RAW Labs
Sample an impressive range of art events and workshops, or just the great coffee, at this Bow Arts caff.
Food & Drink
Lockside Kitchen
Wharfside community cafe offering a regularly-changing menu of healthy and affordable food.
Food & Drink
Galyons Bar & Kitchen
This 19th-century dockside inn has recently been reborn as a waterside gastropub.