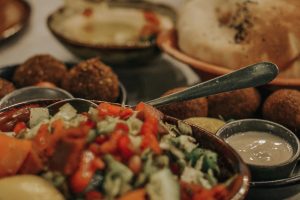 Events
Celebrate Britannia
On March 30, Britannia Village Hall are celebrating Britain — in all its cultural diversity. You're invited to bring a dish to share, and wear traditional dress if you wish. As well as a community meal, there will be flag face-painting, games, and world music. It promises to be a relaxing afternoon to enjoy food with friends, meet the neighbours, and learn about the cultural heritage of West Silvertown's residents.
For your visit
Business
Tate & Lyle Sugars
This refinery on the banks of the Thames has been producing sugar by the tonne for over 140 years.
New Arrival
Food & Drink
The Windjammer
The Windjammer is a stunning pub with a big focus on fresh, seasonal food, a community atmosphere and exceptional service.
Outdoors
Thames Barrier Park
This dramatically-landscaped park is the best place to watch the Thames Barrier in action.