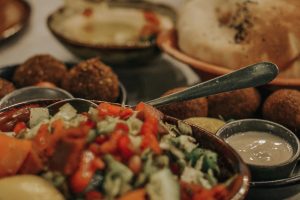 Events
Celebrate Britannia
On March 30, Britannia Village Hall are celebrating Britain — in all its cultural diversity. You're invited to bring a dish to share, and wear traditional dress if you wish. As well as a community meal, there will be flag face-painting, games, and world music. It promises to be a relaxing afternoon to enjoy food with friends, meet the neighbours, and learn about the cultural heritage of West Silvertown's residents.
For your visit
New Arrival
Food & Drink
Husk Brewing
There's a new brewer in town, right where the first IPAs were once shipped from. Watch out for live music nights in the bar.
Outdoors
Britannia Village Green
Every experimental urban village needs a green. This one has a basketball court.
Art & Culture
Brick Lane Music Hall
Music hall is a dying Victorian tradition, and this is historic hall is the only permanent venue for it that remains.