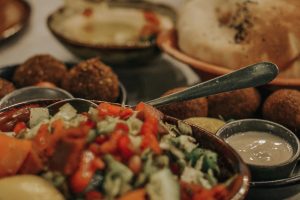 Events
Celebrate Britannia
On March 30, Britannia Village Hall are celebrating Britain — in all its cultural diversity. You're invited to bring a dish to share, and wear traditional dress if you wish. As well as a community meal, there will be flag face-painting, games, and world music. It promises to be a relaxing afternoon to enjoy food with friends, meet the neighbours, and learn about the cultural heritage of West Silvertown's residents.
For your visit
Business
Waterfront Studios
Tucked under Silvertown way, England's first flyover, this business centre has been offering office and light industrial space since 2003.
Outdoors
Royal Wharf Gardens
In this garden in the centre of the Royal Wharf development, you'll find a memorial to the Silvertown Explosion.
Food & Drink
Sainsbury's Local
Open every day 7am til 11pm.