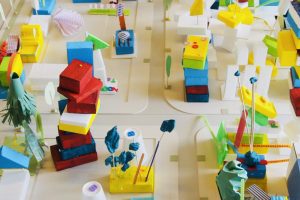 At the Docks
LFA2023: Build-A-Town
Have you ever wanted to build your own town? Now here's your chance!
Using lots of fun craft materials, we will map out our ideal neighbourhood, build our town, houses and public spaces. We will discover what it takes to plan and build your own town, thinking about what makes places easy to navigate, feel safe and connected to our community.
This free event is aimed at families with children aged 5-11. Spaces are limited so we recommend booking your place on Eventbrite.
This event is run in partnership with Mae Architects, Lendlease and London Borough of Newham and will be led by members of the Mae architectural team, Lendlease and Newham.
Photographs will be taken at this event, although you can opt out of this at any point on the day.

Part of the London Festival of Architecture 2023.

For your visit
Community
Henley Arms
A local fixture since 1901, this pub seems untouched since its post-war refurbishment. Step back in time and enjoy a pint over a game of darts.
New Arrival
Food & Drink
The Snack Shack
Homemade cakes and hot food are on offer at this friendly and laid-back spot on St. John's Green.
Community
Royal Docks Learning & Activity Centre
RDLAC has spent 50 years serving the North Woolwich community, from after-school clubs to conservation projects.
Similar events