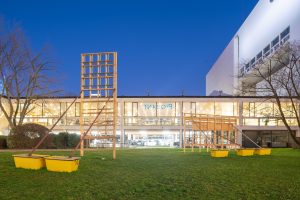 Brutalism on a Human Scale
This exhibition focuses on the postwar architecture of the Belgian architect Léon Stynen (1899-1990). His post-war oeuvre is characterised by brutalist architecture with a sensitivity to the human scale. It reflects the wealth and wit of post-war architecture, and it highlights the contemporary relevance of modern heritage. Léon Stynen wrote that only humankind should form the basis of architecture. With his designs, he intended to contribute to the creation of a modern environment for the contemporary individual. Stynen's oeuvre is not only particularly extensive, but also demonstrates that he mastered all the scales of the profession; from the landscape to the interior.
Belgian architect Léon Stynen epitomises a generation of post-war modernist architects in Europe. Their oeuvres and profiles share many similarities. Typically, these architects were part of a strong national and international network. They were up-to-date and knowledgeable, prolific and varied builders, consummate professionals, and able to access large-scale, highly visible commissions for the welfare state. Showing Stynen's oeuvre at the brutalist Silver building, a former brewery by the Irish architects Munce & Kennedy, underlines the value of modernist heritage and its contemporary relevance.
Accompanying this exhibition is an installation. The wooden structures enclosing the public space in front of the Silver Building, created in collaboration with Eagles of Architecture and a group of high school students, analyse the proportions in Stynen's façades. Ten large photographs by Filip Dujardin show Stynen's buildings in their current condition. In the boiler rooms, a selection of exceptional pieces from the Stynen archive - part of the collection of the Flanders Architectural Institute - reflect the genius of Stynen's oeuvre, and the wealth of paper architecture.
For more information about the Belgian architect Léon Stynen, go to www.stynen2018.be.
Alongside this exhibition, there will also be a lecture and a guided tour.

With support of The General Representation of the Government of Flanders, at the Embassy of Belgium in the United Kingdom.

Part of the London Festival of Architecture 2019.

For your visit
New Arrival
Food & Drink
The Windjammer
The Windjammer is a stunning pub with a big focus on fresh, seasonal food, a community atmosphere and exceptional service.
New Arrival
Food & Drink
Triple Two Coffee
Located inside the Royal Wharf Clubhouse, Triple Two Coffee sits within the focal point for daily health and fitness classes, swimming and neighbourhood events.
Outdoors
Britannia Village Green
Every experimental urban village needs a green. This one has a basketball court.